We Provide Google Ads & Merchant Center & Website Audit's
Serving clients from all over the world, including : UK, US, Canada, Australia, New Zealand, Germany, Italy and many more
Over 250+ Customers a Year Use FeedArmy, Including:
What Is The Consultation?
A consultation is where I analyze the account and write down issues, recommendations, and improvements, explaining why you should improve it with referenced links on how to implement it. The referenced links can be my articles or Google's official documentation.
Do you include step by step guides?
The purpose of the consultation is to identify and explain the issues or improvements. Step by step implementation guides, if available, are provided using FeedArmy articles or Google's official documentation. If you are unable to follow the guides, you can hire me to implement the changes. Some implementations may require someone else, such as a web developer.
What if I have more questions?
All questions due to unclear explanations will be answered free of charge. Any questions related to referenced articles or documents are not free of charge.
Do you help integrate the required changes?
After the audit is completed, I will help with all Data Feed, Google Merchant Center & Google Ads related tasks.
Do you help with website tasks?
No, I will explain everything in detail for your web developer to resolve or implement.
Great and clear service with full knowledge of Google Shopping requirements.
What does the audit cover?
The success of advertising is defined by your tracking ability, implementing all tracking techniques allows you to focus on areas that matter.
The foundation of advertising on Google Shopping is your data feed, with so many elements that contribute towards your ranking, it is important that all attributes are added and optimized.
Even if you have a great click-through rate, it does not guarantee anything. Reducing the bounce rate and increasing sales require an effective landing page.
The final area for a sale needs to be as smooth as possible, any issues or design flaws will increase the bounce rate in a negative way.
Not only do you need a great data feed or landing page, setting up an effective advertising campaign is key to success. Targeting different search terms with different bids, increases your profits.
Need A Google Ads Specialist?
Research product keywords & negative keywords.
Analyze competitor metrics, such as ad spend, search terms, landing pages, etc…
I support all languages. However, for non-English languages, Google translate will be used.
Improve your advertising efforts based on the return of investment (ROAS).
FeedArmy Is a Google Premier Partner
Google Partner is Google's platform for agencies and online marketing professionals who want to get the most out of their relationship with Google.
FeedArmy takes Google Shopping and Google Ads Marketing seriously.
It means that Google trusts FeedArmy and that our clients can trust FeedArmy, too. This gives FeedArmy various benefits, including access to the latest online marketing technologies and industry research.
Emmanuel is also a Google Ads Diamond Product Expert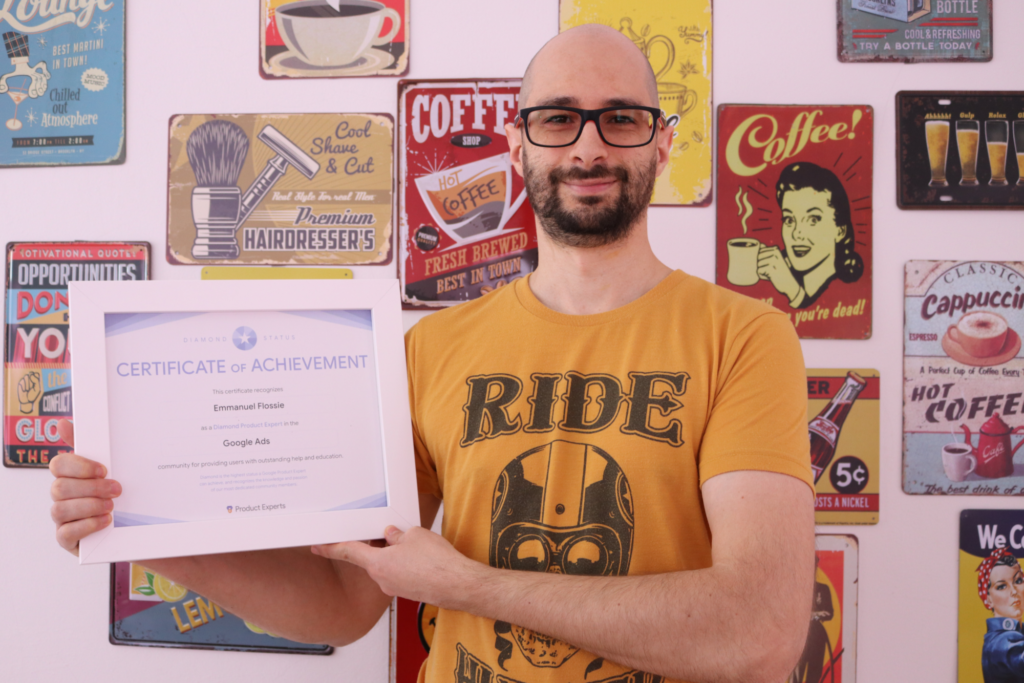 Google Product Experts are volunteers who have a positive attitude, share their product knowledge with other users, and participate in the community consistently.
I have been a product expert since 2016.
Alongside being a Google Badged Partner, being a product expert allows my customers to recognize the knowledge and experience I have. Being a product expert brings certain perks no-one else has, such as testing new betas, receiving dedicated support on complex questions, and more.
Being a product expert keeps my knowledge sharpened every week, providing a constant deep understanding for improving advertising efforts.
Top Contributor Google Ads 2016 – 2017
Gold Product Expert Google Ads 2018 – 2019
Platinum Product Expert Google Ads 2020
Diamond Product Expert Google Ads 2021 / Current
We have over 14 years experience in eCommerce
Clients hire me not only because I know how to connect there products to Google Merchant Center or setting up a Shopping Campaign in Google Ads, but also because I have been working with eCommerce Merchants for over 12 years. This allows me to understand the business at a higher level.
Hiring me will allow you to compete with competitors, by suggesting how to improve both data feed, website, advertising and remarketing.
* All invoices will be charged in THB (Thai Baht), currencies will be converted from USD to THB using Google Finance on invoice creation DateTime.