Save Time & Get Your Google Merchant Center Account Approved Again.
Are you frustrated about the lack of documentation, support, or info from Google? With over 12+ years of experience, having a Google Ads Diamond Product Expert status and a Google Ads Partner certification has given me the ability to identify accounts issues.
I am highly trained in Google Shopping policies and requirements. Resolving issues related to:
Untrustworthy promotions
Unavailable promotions
Misleading or unrealistic promotions
Misrepresentation of self or product
Unacceptable business practices
Account suspensions
Violation of shopping ads policy
Website needs improvement
Omission of relevant information
And more…
Whatever your suspension reason is, I can help. The first step you need to take is to stop any appeals, requests, reviews, and contact Google. Everything you do is permanently recorded in your account. As it may do more harm than good, requesting an appeal without resolving all issues may lead to a permanent suspension.
I Check Over 100+ Suspension Reasons!
Important!
Even when resolving all issues, and following all policies, Google may continue to suspend you. Please take this into consideration before hiring me.
Steps & preparations undertaken before we request a review with Google. The process requires patience and can take up to several weeks to complete.
Check if your website complies with all policy requirements, recommendations and has a high enough trust factor.
Check if your data feed complies with all policy requirements.
Google Merchant Center Analysis
Check that your account has all the required settings.
I will provide a document explaining everything that needs to be changed with the consultation.
Review All Applied Changes
Check all applied changes are correct. *One Free checkup included
Google's review process takes around seven business days. The success of your approval depends on the implementation of my recommendations. Every part of the consultation you decide not to implement may lower the success of your approval. 
Even then, many factors are outside of our control. Therefore, while all requirements will be analyzed, ultimately, the decision is made by Google.
Hire a Certified Google Ads Diamond Product Expert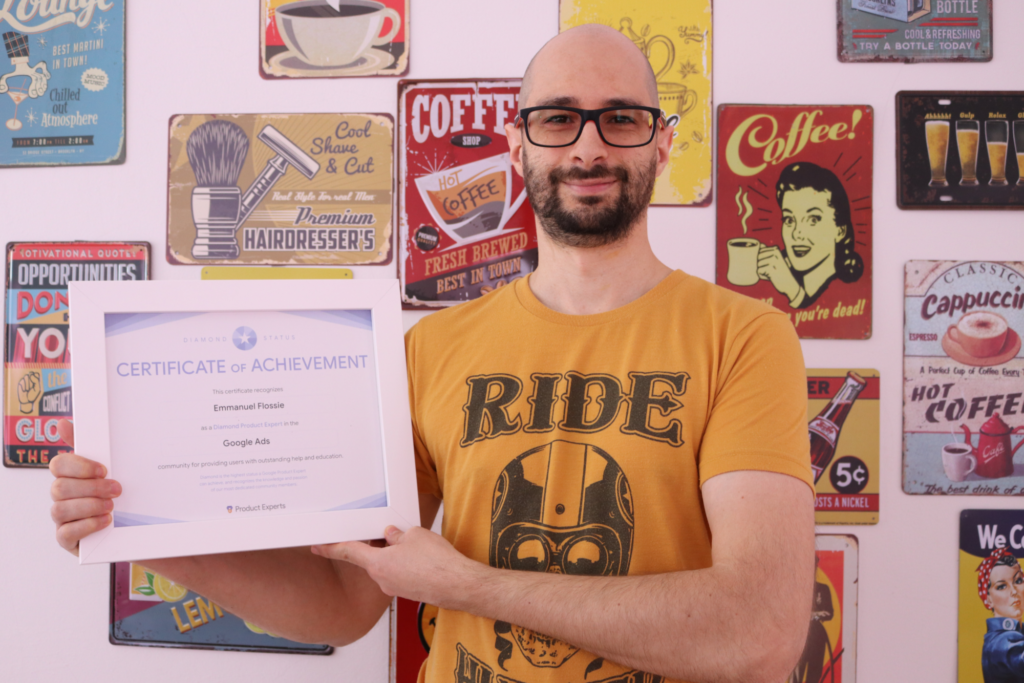 Google Product Experts are volunteers who have a positive attitude, share their product knowledge with other users, and participate in the community consistently.
I have been a product expert since 2016.
Alongside being a Google Badged Partner, being a product expert allows my customers to recognize the knowledge and experience I have. Being a product expert brings certain perks no-one else has, such as testing new betas, receiving dedicated support on complex questions, and more.
Being a product expert keeps my knowledge sharpened every week, providing a constant deep understanding for improving advertising efforts.
I'm also a Google Certified Partner
Google Partner is Google's platform for agencies and online marketing professionals who want to get the most out of there relationship with Google.
I take my Google Shopping and Google Ads Marketing seriously.
It means that I am trusted by Google and that my clients can trust me, too. This gives FeedArmy a range of benefits, including access to the latest online marketing technologies and industry research.
Emmanuel was excellent and was able to help get my Google Merchant Center unsuspended! Forever grateful!
Molly Heroy @ tackofthetownlv.com
Been really impressed with my experience with FeedArmy and Emmanuel in particular. Received a very detailed action plan to address issues we had getting our GMC in a place to be approved. Will be working with FeedArmy going forward to help improve our feed and Shopping campaigns as they have more than demonstrated their expertise.
I can not recommend Emmanuel and FeedArmy enough. My company was suspended from Google advertising and I was at my wits ends trying to figure out what needed to be changed with our website. Emmanuel consulted and provided us with literally pages of recommend changes and actionable items. I implemented all the excellent changes and we are unsuspended. Hooray for Emmanuel!
Rena Klouse @ greenbeeteatowels.com
My Google Merchant Centre account was suspended for a long time until i found Emmanuel. He conducted a thorough review and sent me a report with all the points to correct on my website and merchant centre. I followed his intructions to the letter and that was it, unsuspended. My only regret was not contacting him sooner.
Thanks Emmanuel!
Michael Geraghty @ superstrong.co.uk
Let me tell you guys, if you have any feed issues or suspended GMC give this man a call and he will get you fixed up with as many details and fixes he can possibly find. I can't tell you how much money has been thrown away with people claiming they could help me that never went anywhere good. Not only did he take the time to track down 24 issues with my website that needed things implemented or corrected he also gave descriptive detail on how and where to fix these things and even links to examples of how it should be. You ROCK man and thanks so much again! 10 out of 10 RECOMMEND!
Shannon Free @ shortcircuitsolution.com
Emmanuel helped us so much with our GMC suspension. Highly recommend his services and consultations! Thank you 🙂
Margarita Paschali @ annavasily.com.au
After Months of Fighting with Google Merchant center suspension. This guy Help me resolve my problem in 2 days. One of the best !!! I very recommend his service !!
Feedarmy is great. I always get a reply right away to any of my inquiries. They are very thorough in their work. I followed all their recommendations and Google lifted my suspension. Thank you Feedarmy!!
True Google Merchant Expert – Throughout the past 6 months, Emmanuel has been a pillar of trust regarding Google Shopping and related advice, helped our company and Shopify Store with a Local Product Feed in Google Shopping, where we have very difficult products to describe in Google and are new to the market, he has also helped restore our Google Merchant Suspended Account at one point, we had numerous questions answered about product feeds, and product suspension, and account issues, in less than 24 hours without a miss. As long as you are able to read and follow instructions, Emmanuel can help with everything GMC related no matter which country you are in the world. All you have to do is trust his advice, pay the money, follow the instructions given and walk away with a smile.
Ene Claudiu @ dualtron.com
After dealing with Google's GMC suspension for to "misrepresentation" for 4+ months and 4 review requests later we were finally able to get unsuspended.
Before coming to FeedArmy, I thought I had done everything I possibly could to get my site aligned with Google, boy was I wrong.
Emmanuel wrote a thorough document of all the things needed to fix in order to get approved, on both the GMC account and Website. He also considers 3rd party factors which Google looks at as well, which I believed helped a lot.
After implementing some changes from FeedArmy's consultation, I submitted a review and still got rejected. However, Emmanuel did a free check up for me and pointed out the things I was doing wrong. After I fixed those and submitted another review I was approved!! It was such a gratifying feeling of solving a problem that has been persisting for months now! Thank you!
Stefano M @ brainbuildertoys.com
* All invoices will be charged in THB (Thai Baht), currencies will be converted from USD to THB using Google Finance on invoice creation DateTime.
Can you guarantee success
No, Decisions made to approve or disapprove you are made by Google. Even when you follow all requirements, Google can still suspend you.
An official Google Partner can not make guaranteed claims; if they do, they violate Google's Partner Program Policy.
Should I create a new account or website?
Absolutely not. Creating new accounts or websites when you have an active suspension is considered circumventing policy violations, which is a severe violation that will result in a potential permanent suspension.
Reviewing Google Merchant Center, the data feed and the website takes 1 to 2 weeks.
I will first analyze all associated areas (Google Merchant Center, Data Feed and Website)

I will provide a document with all the required changes and explanations

You can then apply the changes, or if needed, I can assist in implementing the changes (except any website development, I will help in communication with your developer to complete the tasks)

Analyze all the applied changes
Requesting a refund is not possible if your account is still suspended. Google can still disapprove you regardless of following policies and requirements.
I spend a considerable amount of time, resources, knowledge, and experience in helping your business. All of this effort needs to be compensated.