Google Shopping Custom Labels for Google Ads is a helpful attribute that allows you to define your campaigns at a much higher level.
Benefits
Use custom label values
Bid per custom label value
Find searched keywords per campaign/ad group create by custom labels
Use combinations of Custom Labels, Category, Product Type and more.
How to create custom labels?
Using the Feed Rules

You can create feed rules on any data feed solution.
With Supplement Feeds

When using a text delimiter you will need to add a column with the column header being
| | | | | | |
| --- | --- | --- | --- | --- | --- |
| Item ID | custom label 0 | custom label 1 | custom label 2 | custom label 3 | custom label 4 |
| item #1 | Winter | BestSeller | | LowMargin | |
| item #2 | Summer | | | HighMargin | 2013 |
| item #3 | | | Clearance | | 2012 |
Other apps

Get in touch with the app developer or community
Why use Custom Labels?
Using custom labels allows you to break away from the constraints within categories, product types, etc.
Start at any tree level.

When using categories, you always have to start at the first level of the tree. For example if we use the taxonomy "Food, Beverages & Tobacco > Food Items > Candy & Gum > Candy & Chocolate > Candy Bars & Pieces". We would only be able to start from "Food, Beverages & Tobacco"
However, when we use Custom Labels, we can start at any of the five levels. This allows us to ignore the first level and start at Food Items.

Use values not available in other fields.

You can use all sorts of values. For example, you can use words that define your margin. Low Margin, High Margin. High Season Low Season, Promotion, etc…. Or you can define your taxonomy.

Bid differently based on your values

Bidding is a high-ranking factor for positioning your products inside Google Shopping. Bidding on these products and improving ranking is a critical element of a successful sale.
What are the limitations?
You are limited to a total of 1000 different values. Meaning you can use any other word or sentence in any of the five custom label columns. Each unique value in these five columns will be counted as one.
If we look at the table below, we can see that we have nine cells, but we only have six different values. Any value can be in any column, as long as the total for all five columns does not exceed 1000 unique values.
| | | |
| --- | --- | --- |
| bedroom | bed | mission |
| bedroom | armoire | amish |
| bedroom | dresser chest | amish |
---
Tip 1 – Use any combination of subdivision types
You can start by using your top-level Custom Label 0 than define it to a subdivision using categories, product type, brand, product id etc.
Or you can start with the top-level category then use custom labels down the tree. The combinations are limitless and allow you to define your product grouping in a very effective way.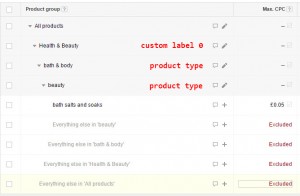 Here is a guide on how to create product group subdivisions.
Tip 2 – Find searched keywords much easier
If you have many products, then creating multiple ad groups per product listing will allow you to searched keywords for that particular group. Enabling you to better control your negative keywords.
So, for example, I have two groups, Coffee and Juice. When I go inside dimension and select view searched keywords, I can use the filter option to change the specified group results.
Need Help?
Do you have a question or need specialist support? Get in touch!